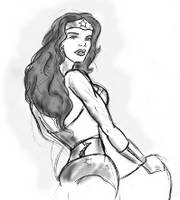 click image to enlarge

Above is a quick sketch of Wonder Woman I did yesterday, and then just added a touch o' gray.
Speaking of WW, the old TV series is on DVD. Man, I always has a struggle in my pre pubescence about whether Linda Carter, or Erin Gray from "Buck Rodgers" was the bigger babe...Ah the queries we had when we were young.
Enjoy